Carpenter insurance helps secure solid protection for your day-to-day operations.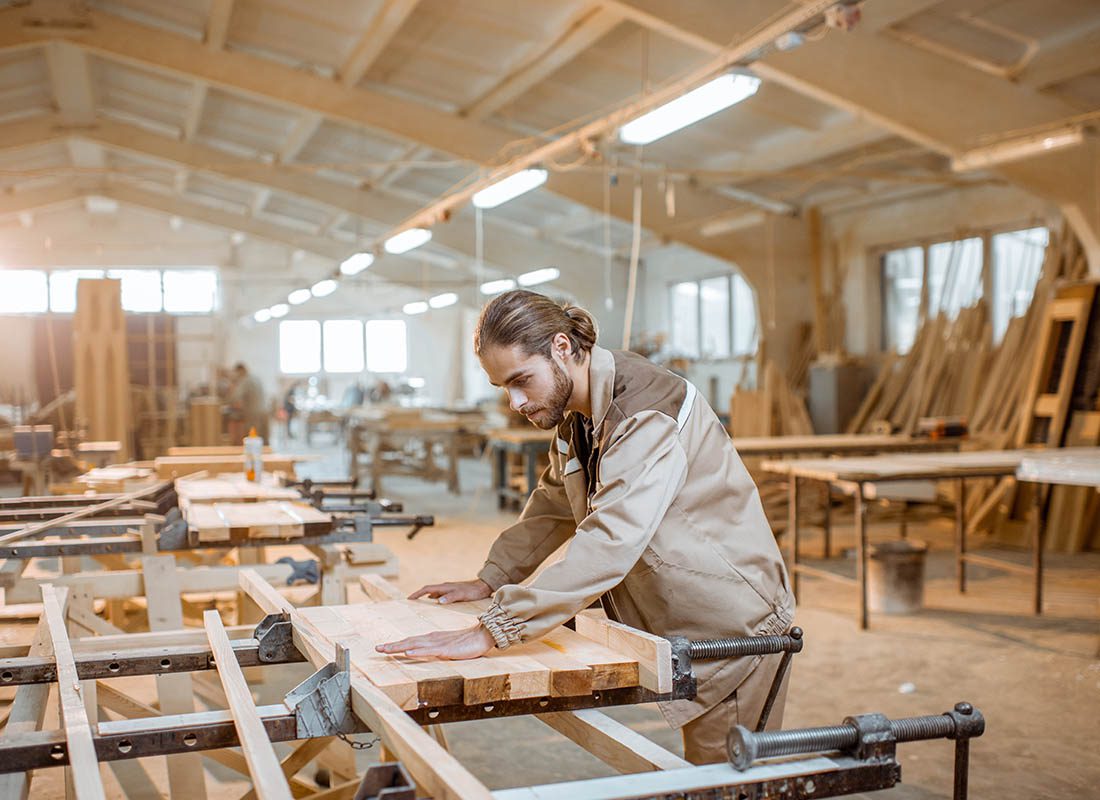 Build up a framework of protection for your business with carpenter insurance.
Why do carpenters need insurance? What are the risks?
The nature of the work carpenters perform poses certain threats to your business as a whole. Through your use of industry-specific tools and materials and because the work happens on the properties of your clients, significant risks exist. For example, what if a claim arises from a client who trips over your materials or a tool that damages their personal property? Without insurance, your business would be held liable for paying medical expenses or property replacements in full. Similarly, one of your employees could be injured while on the job. Without the right coverage, your company would be responsible for medical bills or lawsuits that might come up. Also, the materials, tools, and equipment you transport could be damaged or stolen anywhere from your business, while in transit, or at the job site. Would you be able to pay for replacements without insurance?
What coverages are most important for carpenters to have?
As part of any carpenter insurance policy, general liability insurance should be at the top of your list. This provides coverage in the event of personal injuries to clients or damage to their property while working on a project. Also, you may likely need to obtain workers' compensation insurance. Your employees face exposure to multiple risks because of the materials and tools they use, as well as the physical work involved in the carpentry trade. If a worker is injured while on the job, their medical bills may be covered. Also, completed operations insurance offers coverage if personal injury or property damage occurs as a result of your work after the job has been completed, such as a house collapsing or a step in a staircase breaking.
Coverage depends on the carpentry work you perform.
In order to get a well-rounded carpenter insurance policy, it's important for your agent to understand the specific types of services you provide in the carpentry industry. For instance, the coverage needs of a carpenter who focuses solely on remodeling and refinishing for residential properties differs vastly from the needs of a carpentry contractor who installs structural supports and framework for buildings. Take the services you provide into account when considering your specialized insurance policy so that it fits your business. Here are some examples of the different types of carpenters that may benefit from a specialized carpenter insurance policy:
Cabinetmakers
Finish Carpenters
Framers
Joisters
Roofers
Rough Carpenters
Ship Carpenters
Trim Carpenters
Carpenters still need general business insurance.
As a carpenter, whether you have an entire team or you are a one-person shop, you are still operating a business and need insurance coverage to protect it just the same. Business auto insurance protects you if you or an employee is involved in an accident with a company vehicle while in transit to or from a job. Inland marine insurance provides coverage for materials, tools, and equipment in the event that they are damaged or stolen while in transit. Crime insurance offers another layer of protection to help cover your business if an employee is found stealing from a client. Also, cyber liability insurance may benefit your business if you store client information on your computers.
Contact us to learn more about finding carpenter insurance for your business.
Step 1

Fill out the form.

Step 2

Review your options with us.

Step 3

Get the coverage you need.
Carpenter Insurance Quote Request
"*" indicates required fields