Concrete contractor insurance provides coverage for the risks of your trade.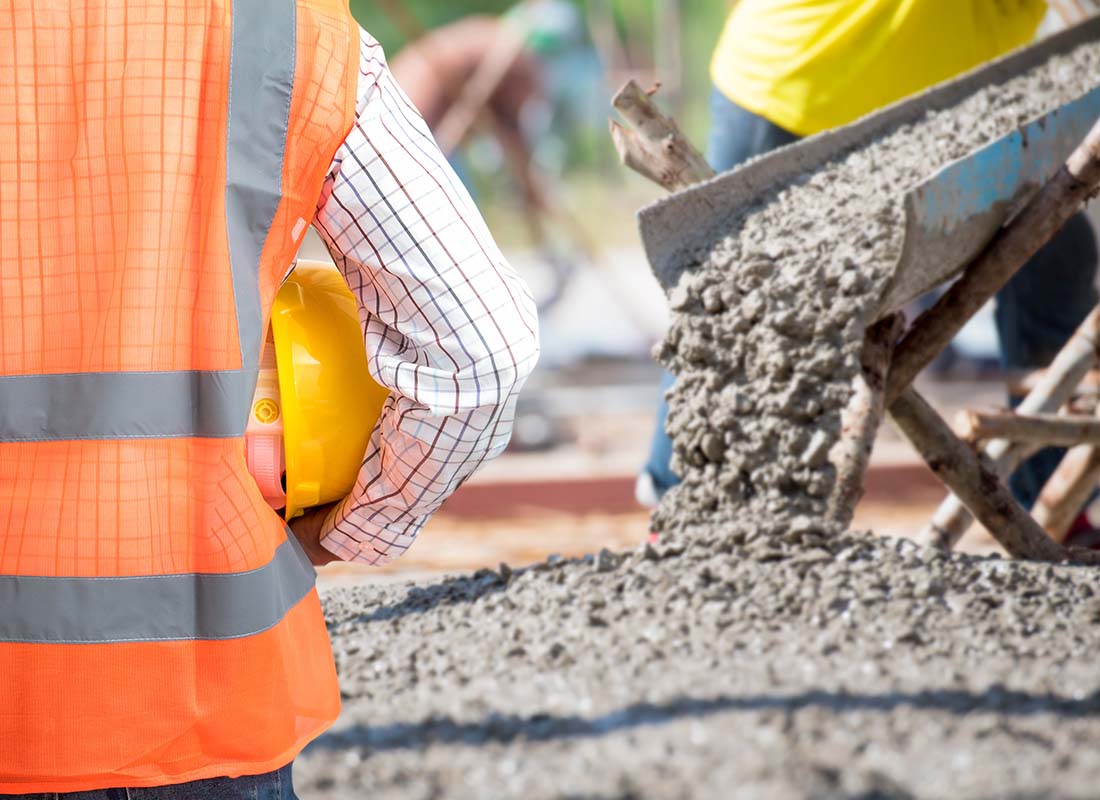 Protect the foundation of your business with concrete contractor insurance.
Coverage options that concrete contractors may need.
No concrete contractor insurance program would be complete without general liability and commercial property insurance. General liability insurance offers protection in the event you damage someone's property or someone is hurt on your property or a worksite. Commercial property insurance helps protect your building (whether owned or rented), storage facility, inventory, supplies, and more. You'll often find these coverages packaged together into a business owners insurance policy (BOP).
Business auto insurance for all your vehicles.
Your concrete contractor business likely utilizes a variety of vehicles. For instance, this could include a car for traveling to appointments, trucks to carry equipment and crew, and even a large concrete mixer truck. Business auto insurance may pay for property damage or bodily injuries after an accident. Similarly, if any employee uses their own vehicle while on the job, or if you rent vehicles periodically, consider including hired and non-owned auto insurance as well.
Liability insurance helps protect you during and after the job.
Mistakes in your work could result in a minor inconvenience or become a matter of life and death. And, while not necessarily anyone's fault, problems can arise if there is something wrong with the materials you use. Consequently, you need professional liability insurance that helps protect you in the event of an error. Also, consider completed operations insurance, which provides liability protection for the work you did even when the project is finished.
Protect your essential tools and equipment.
You simply cannot operate if you don't have your tools and equipment in proper working order. Protect your business with tools and equipment insurance that may provide coverage for the replacement or repair of your specialized tools and machinery. Whether lost, stolen, or damaged, this insurance can help get you back to work with less downtime while waiting for items to be fixed.
  What is covered by concrete contractor insurance?
Typically, policies may include business auto, employment practice liability, general liability, and commercial umbrella insurance, as well as builders risk and inland marine insurance, depending on the needs of your business.
Don't skip other important business insurance policies.
Some insurance policies benefit most businesses, even the most highly specialized. For instance, cyber liability insurance offers protection from the financial ramifications of data breaches and network hacks. Workers' compensation insurance requirements exist in most places, but the importance of this coverage cannot be stressed enough for concrete contractors due to the physical nature of the work you do. Finally, if someone makes accusations of discriminatory practices or harassment, employment practice liability insurance may help pay for defense costs and settlements.
Are you interested in concrete contractor insurance for your business? Contact us to learn more.
Step 1

Fill out the form.

Step 2

Review your options with us.

Step 3

Get the coverage you need.
Concrete Contractor Insurance Quote Request
"*" indicates required fields