Condo building insurance helps protect your real estate investment.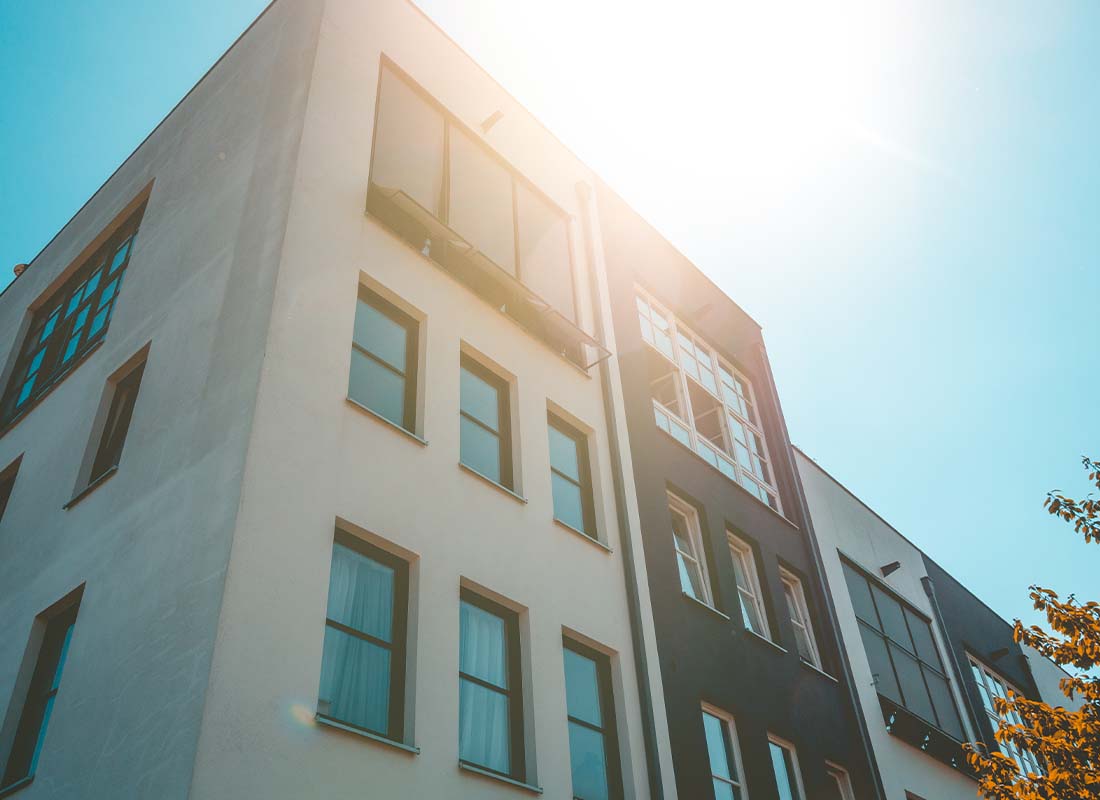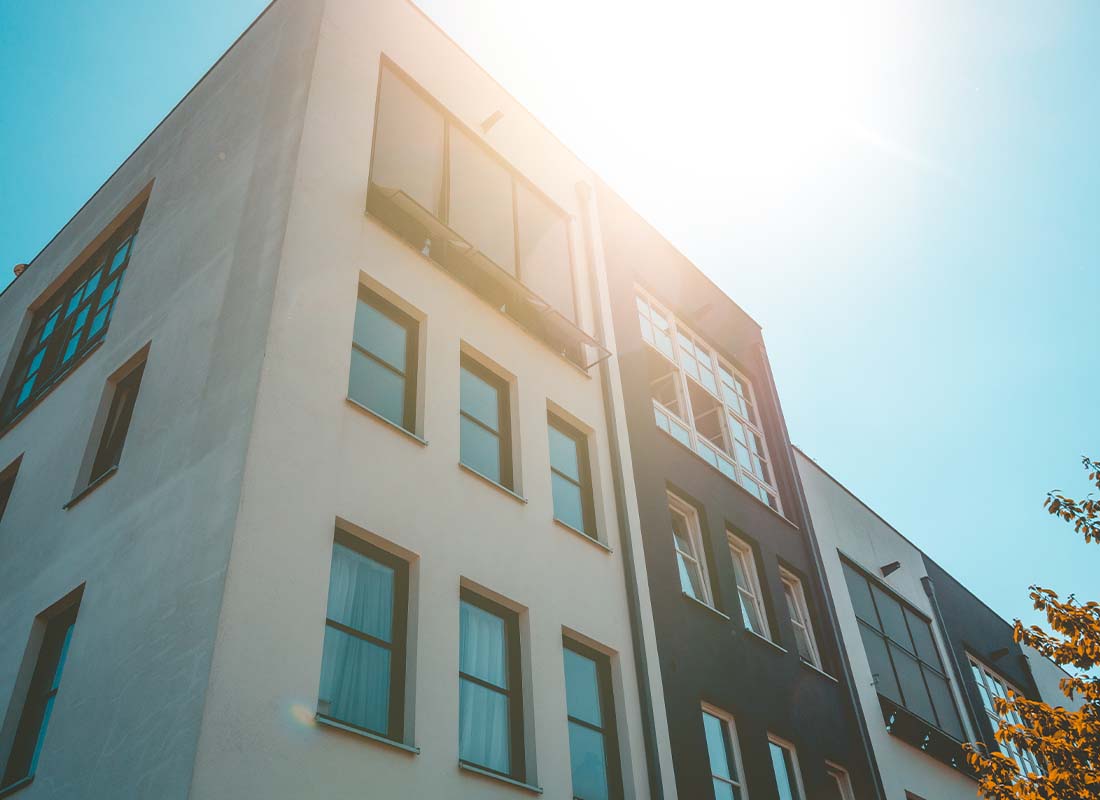 Find peace of mind and protection with condo building insurance.
Four levels of coverage for condo buildings.
The unique nature of condo buildings often leads to some confusion over who is responsible for insuring what. In reality, it's simple, but everyone involved—both the condo association and the condo owner—needs to know how it works. There are four main types of policies that each have their own unique areas of coverage, which include:
Association Master Policy
Bare Walls Coverage
Modified Single Entity Coverage
Single Entity Coverage
Step 1

Click hotspots.

Step 2

Discover risks.

Step 3

Get coverage.
Property Insurance
Risk Factor
Condo and co-op associations may face severe financial consequences from property loss due to fire, wind, or other causes.
Solution
Commercial property insurance should provide coverage for damage to the building, personal property owned by the association, and income lost due to a covered cause of loss.
General Liability
Risk Factor
Condo and co-op associations are susceptible to many risks, such as claims due to bodily injury, property damage, personal injury, and more. The association could also face lawsuits from claims associated with common areas such as hallways, stairwells, swimming pools, and parking areas.
Solution
General liability insurance is an absolute necessity for any association. It provides coverage for legal fees and judgments when the association is named in a covered lawsuit.
Crime and Fidelity Bond Insurance
Risk Factor
Crime and fidelity bond insurance is designed to provide coverage to cooperative and condominium associations to protect them from theft of funds or association-owned personal property by an employee, board member and in some cases, the property management firm.
Solution
Crime and fidelity coverage is designed to provide coverage for employee dishonesty, forgery and alteration, computer fraud, counterfeiting, and more.
Systems Breakdown Insurance
Risk Factor
With technology performing many tasks in today's world, a breakdown can cause a significant financial burden, including the cost to repair the equipment and any resulting lost income or extra expenses.
Solution
Comprehensive coverage provides protection against equipment mechanical breakdown for machinery such as heating and cooling equipment and elevator motors.
Directors and Officers Liability Insurance
Risk Factor
Directors and officers (such as board members) can be held accountable for decisions they make in the performance of their duties. Any resulting lawsuits are typically expensive to defend and can result in potentially large settlements.
Solution
Directors and officers liability insurance provides coverage for the legal costs to defend a covered lawsuit and may also provide the money necessary for any resulting judgments.
Commercial Umbrella Insurance
Risk Factor
What happens when your condo or co-op building faces a large liability loss that exceeds the basic limit of your standard policy?
Solution
A commercial umbrella policy will provide extra coverage over and above general liability, directors and officers liability, auto liability, and employers liability policies. Limits start at $1,000,000 and go as high as $200,000,000.
Cyber Liability Insurance
Risk Factor
Technology has spun a whole new web of liability exposures including the need for protection of privacy, data, and financial information for your association residents. Breach of their data can result in costly fees and lawsuits for the association if held liable.
Solution
Cyber liability coverage covers fees and lawsuits resulting from the breach of personal data, assuming that the association is liable.
Environmental Insurance
Risk Factor
Pollutant clean-up is generally excluded from the basic policies. Leaking of a fuel tank can be very costly to remediate.
Solution
Environmental insurance provides coverage for clean-up costs and third party lawsuits as a result of a leak from the tank or related pipes.
Sponsor / Investors Owned Units Insurance
Risk Factor
Typically the policies for the association exclude coverage for the sponsor or holder of unsold shares for the interior of the units they own.
Solution
A policy should be maintained to provide coverage for what you are responsible for within the unit, as well as any lost income and lawsuits resulting from acts within the unit.
Association master policy.
The condo owners association provides coverage for some parts of the building against damage with an association master policy. The individual condo owners will be responsible for any remaining insurance for their own unit. The association master policy will almost always cover common areas such as hallways and elevators, but coverage beyond that may vary.
Bare walls coverage.
The simplest option is bare walls coverage, meaning the condo owners association policy simply covers the walls, floors, and ceilings in each unit, with the individual owners being responsible for everything else, including fittings and fixtures.
Modified single entity coverage.
Modified single entity coverage, or all-in coverage, extends coverage to any replacement or upgraded fittings. This may include coverage for fixtures and appliances, but not the personal property of the unit owner.
Single entity coverage.
Single entity coverage extends the condo owners association coverage to standard finishes, such as fitted kitchens and bathroom units, but not the unit owner's personal property. One note of caution—if the owner of a unit replaces any fitting, such as a kitchen counter or carpet, it may no longer be covered by the association master policy.
Looking to help safeguard your investment with condo building insurance? Contact us to go over your needs and the coverage options available to you.
Step 1

Fill out the form.

Step 2

Review your options with us.

Step 3

Get the coverage you need.
Condo Building Insurance Quote Request
"*" indicates required fields