Food truck insurance helps cover your business so you can keep your customers fed.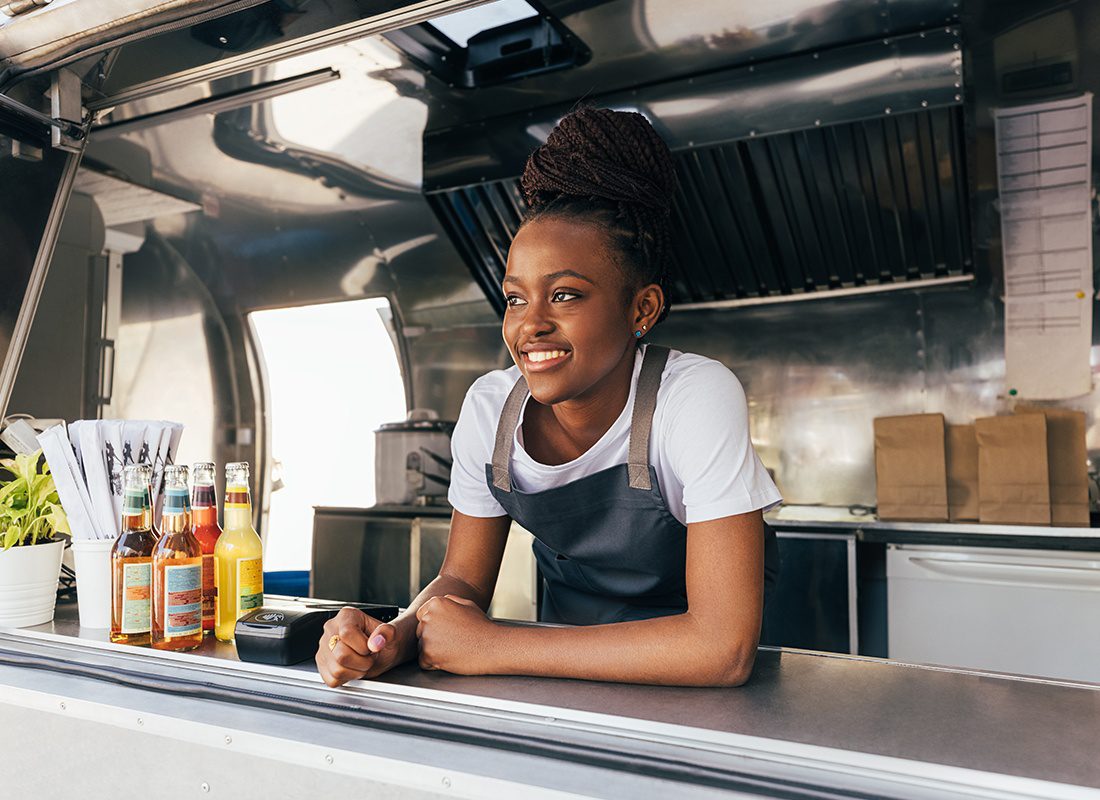 While food trucks are free to travel to different locations to serve food, food truck insurance helps cover your risks while on the move.
Your food truck is still a vehicle.
Unlike a traditional restaurant that has a building to house its kitchen, your business is based on your food truck moving from location to location. Since you're using the food truck for commercial purposes, it most likely won't be covered under any personal auto insurance you may have. For that reason, you'll want business auto insurance as part of your food truck insurance plan. This coverage can help protect you in case your food truck is involved in an accident. For example, it typically covers things like damages and medical costs that you're liable for. Some policies can also cover events like vehicle theft and weather damage. And, if you add physical damage coverage, it can help protect any equipment or appliances that are permanently affixed to your food truck.
Traveling makes you unique and puts you at risk.
One of the great things about having a food truck is you aren't tied down to a single area like a traditional restaurant. You can travel to festivals and different cities to reach a wider variety of customers. However, because you travel from place to place, standard commercial property insurance probably won't provide all the protection you need. Since business auto insurance only covers your vehicle, you'll want to consider inland marine insurance to protect the contents of your food truck. This policy is important to your food truck insurance plan since it provides coverage for your property while it's in transit between locations. In other words, if it gets damaged by a covered event, you may be protected from a major loss. Here are some of the types of food trucks that may benefit from this type of policy:
Catering Trucks
Concession Trucks
Ice Cream Trucks
Mobile Food Trucks
Vending Trucks
Get coverage for a variety of potential liabilities.
Life can throw your business into some crazy situations which is why it's important to have the necessary coverage. For instance, let's say you're parked out in the sun on a hot summer day when a customer leans up against your truck and burns themselves. Or perhaps a customer has eaten one of your delicious lobster rolls but came down with food poisoning and thinks they got it from your food truck. You could be held liable for these situations and more. General liability insurance is an important part of your food truck insurance coverage as it may help you cover the costs of damages you're liable for. It may also help cover the cost to defend yourself against such accusations.
Working with food involves special coverage.
You obviously don't want your customers to get sick from eating your food, which is why you wouldn't serve them anything potentially spoiled or contaminated. What happens if the power goes out and causes all the food in your fridge to spoil? What happens if your food is exposed to a contaminant? There's special coverage you can add to your food truck insurance plan to help protect you. Spoilage insurance can help cover you if your food spoils from a covered event, such as a power outage or broken refrigerator. Food contamination shut down insurance can help protect you from lost income if you're forced to close for contamination reasons. Some policies can even help cover the costs to help fix the issue.
Your food truck is just like any other business.
While a food truck is a unique way to house and run a business, it still needs some basic coverages as part of your food truck insurance policy. For example, if you have employees, you'll want to get workers' compensation insurance to help cover their expenses and lost wages in the event they get hurt while on the job. Since you work with a lot of expensive equipment that's necessary to make your food, systems breakdown insurance can help cover the costs of repair and replacement in the event your equipment breaks. Additionally, because your business relies on traveling to locations, business interruption insurance can help cover lost income if you're unable to operate your business—following a natural disaster is an example.
Are you ready to learn more about specialized food truck insurance coverage? Contact us today to discuss your insurance options.
Step 1

Fill out the form.

Step 2

Review your options with us.

Step 3

Get the coverage you need.
Food Truck Insurance Quote Request
"*" indicates required fields