Masonry contractor insurance tailored to your masonry business.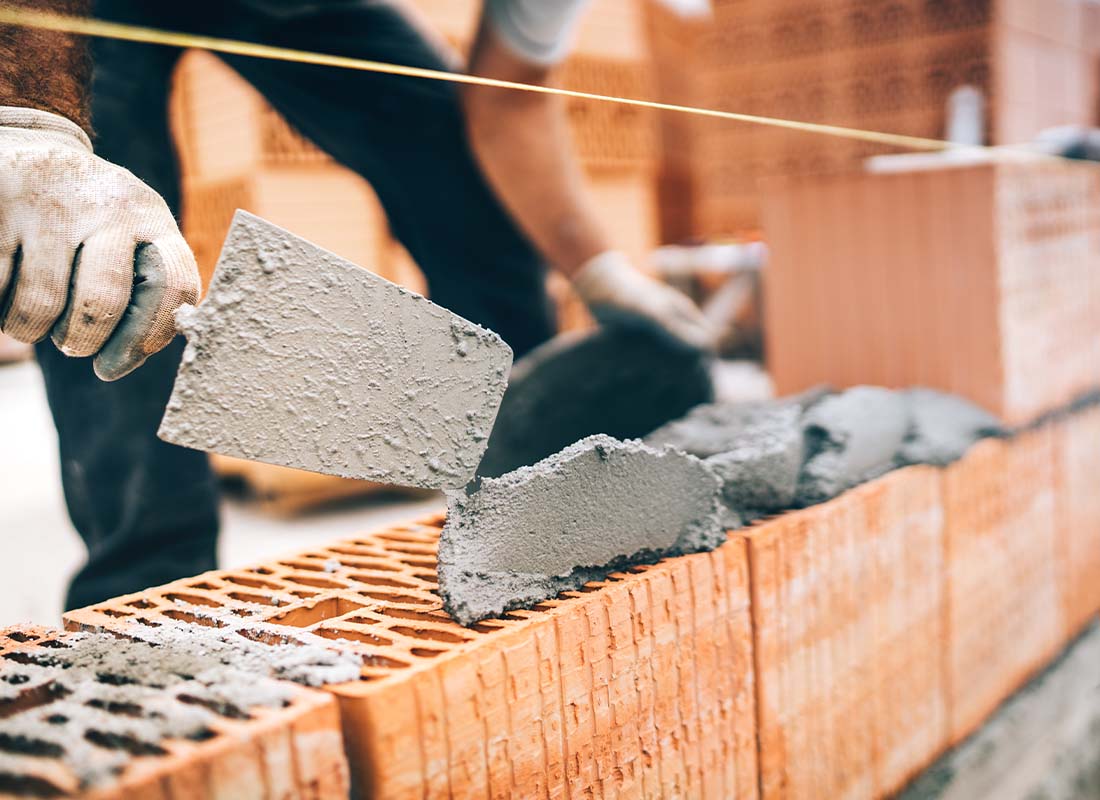 Protect your business layer by layer with masonry contractor insurance.
Protect your business with masonry contractor insurance.
Two very important insurance coverages for masonry contractors include general liability and commercial property insurance. General liability insurance may offer protection in the event someone is hurt on your property or a job site. It may also cover the cost of damage you do to someone else's property. Commercial property insurance helps protect your office, storage sites, materials, equipment, and supplies. Both of these are typically combined into a business owners insurance policy (BOP). In addition to these, you may also want to consider the following coverage options in your masonry contractor insurance policy:
Builders Risk
Business Auto
Commercial Umbrella
Contractor's Tools and Equipment
Cyber Liability
Employment Practice Liability
Inland Marine
Workers' Compensation
Protection for the structures you build.
Clients expect your work to last for a significant amount of time, long after you finish the project. But what happens when it doesn't, either because of a mistake or inferior materials? Completed operations insurance may provide protection if something like this goes wrong or the client is unhappy with the work you did. This coverage is often part of your general liability insurance policy, but if not, consider adding it on.
Covering your business, wherever it may be.
Masonry contractors need to travel between job sites frequently. As a result, whether using a personal vehicle for business or a fleet of vans and trucks, business auto insurance may help offer protection if any of your vehicles cause damage or bodily injury. Also, you need insurance for the specialized tools and equipment your vehicles are carrying as well, and securing an inland marine insurance policy may help pay for damage or loss while in transit.
The structure you're building needs coverage too.
Builders risk insurance provides coverage for whatever you're building during construction. Similarly, you may also see this called a course of construction policy. Inland marine insurance policies may include builders risk coverage, or it may also be purchased as a standalone policy. Regardless, covering your work in progress with insurance may help protect you from substantial risk.
Essential coverage for masonry tools and equipment.
Without your tools and equipment, you can't work. Things like mortar mixers, chisels, saws, brick hammers, and other tools could get lost, damaged, or stolen. Paying out of pocket for repair or replacement can be financially draining. Specialized contractor's tools and equipment coverage offers necessary protection to help keep your jobs on track.
Help cover the risks associated with your business.
When all is said and done, you're still running a business. There are some insurance coverages that can benefit businesses in almost any industry, including masonry. For example, cybercriminals often target small to mid-size companies, so cyber liability insurance may provide valuable protection. If an employee files a suit alleging discriminatory hiring or firing processes, employment practice liability insurance (EPLI) may help pay for the cost of defense and damages awarded.
Ready to discuss the unique insurance needs of your masonry contractor business? Contact us to learn more about masonry contractor insurance.
Step 1

Fill out the form.

Step 2

Review your options with us.

Step 3

Get the coverage you need.
Masonry Contractor Insurance Quote Request
"*" indicates required fields