Warehousing and logistics insurance helps you keep things sorted.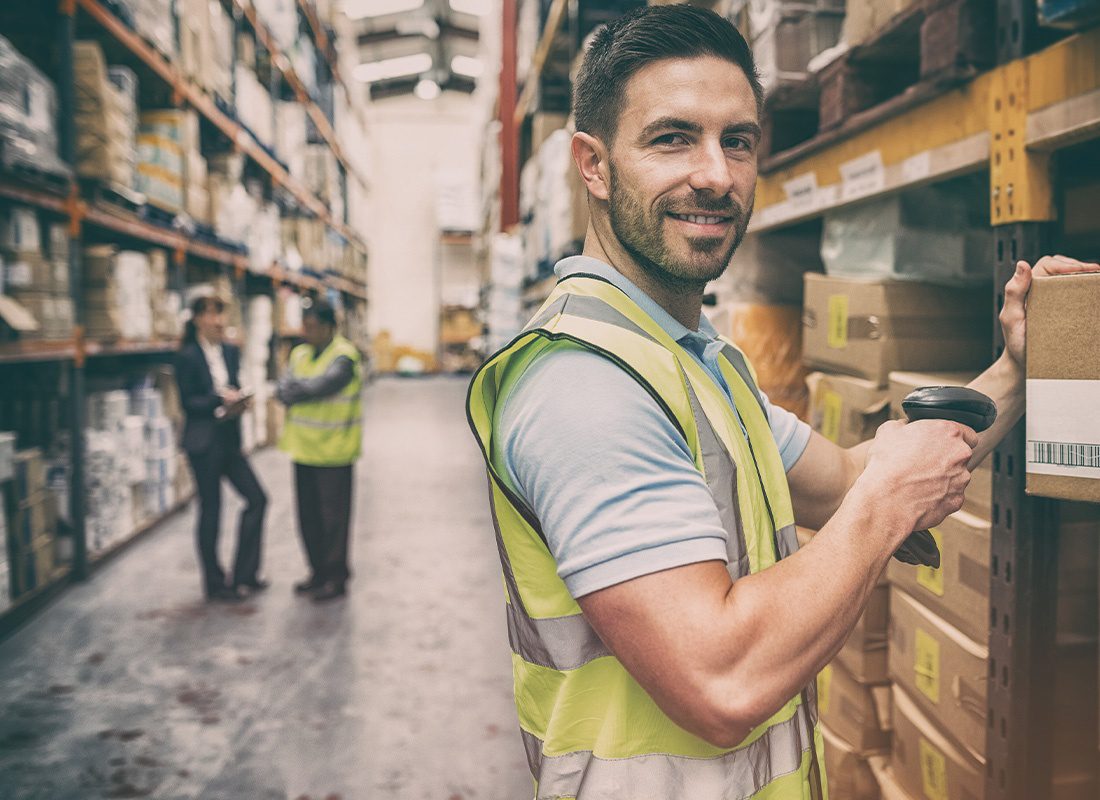 When you run warehouses and logistics, you're faced with a lot of moving parts. That's where warehousing and logistics insurance comes in.
Protection for your expensive and necessary equipment.
Your business relies on the equipment you use to keep running. From conveyor belts and forklifts to sorters and more, if even one part of your process breaks down or malfunctions, your business could face many unexpected costs. Equipment breakdown insurance as part of your comprehensive warehousing and logistics insurance coverage can help cover repair and replacement costs—and sometimes the costs of damaged goods—so you can be back up and running in no time.
What happens if you or a contingent business shuts down?
Warehousing and logistics involve a lot of fine-tuned processes, not only within your business but with the contingent businesses you rely on. If you or a contingent business is forced to shut down or relocate due to a covered peril, you could face significant financial losses during that downtime. When putting together your warehousing and logistics insurance plan, investing in business interruption insurance and contingent business interruption insurance may help keep you protected from unexpected and covered perils. Here are the different types of warehouses that may benefit from this type of policy:
Automated Warehouse
Bonded Warehouse
Cooperative Warehouse
Distribution Center
Fulfillment Center
Government Warehouse
Private Warehouse
Public Warehouse
Step 1

Click hotspots.

Step 2

Discover risks.

Step 3

Get coverage.
Bailee and Property of Others
Risk Factor
A major part of your warehousing and logistics operations includes taking temporary possession of the property of others. While these items are in your care, they can be damaged or stolen, resulting in significant loss for your business.
Solution
Often a part of warehouse legal liability policies, bailee and property of others coverage offers protection in the event of property damage or direct physical loss of items you are responsible for. This could include losses at your main warehouse or overflow facilities, or even during the process of various services you provide including storage, package, labeling, or transporting.
Equipment Breakdown
Risk Factor
Warehouses typically have a variety of equipment to help keep the business running. This could include conveyors, robot and picking systems, forklifts, sorters, as well as HVAC and refrigeration systems. If any one of these breaks down, you could be faced with hefty repair or replacement costs, as well as a potential loss of revenue or damage to inventory.
Solution
Equipment breakdown insurance can help cover repair or replacement costs of certain equipment in the case of a covered event. Some policies also cover damage to goods you are responsible for, as well as costs associated with an interruption to your business.
Pollution Cleanup
Risk Factor
Warehouses can hold all sorts of items and materials, including hazardous and flammable materials. If there is a leak or spill, you'll be responsible for the cleanup and any damage caused to not only your own property but the property of a third party. Cleanup can be very costly, even if the property damage is minimal.
Solution
Pollution cleanup insurance offers protection in the event of a chemical or hazardous material spill or leak. It may cover the cost of the actual cleanup, damage to first- or third-party property, and possibly regulatory liabilities.
Business Interruption and Contingent Business Interruption
Risk Factor
If you have to temporarily suspend your business due to a covered peril, you'll likely face significant revenue loss. You may also incur extra expenses if you have to relocate your business. However, you may also have to halt operations if there's a similar covered loss at the location of a supplier or customer. For example, if you store and handle goods made by a particular manufacturer and they have a fire that causes them to shut down, you may not have the inventory to store and handle, which will hurt your business.
Solution
Business interruption helps to cover lost revenue and extra expenses that arise from a covered peril. This could include replacement of income, payroll, temporary office space, or other costs. Contingent business interruption covers losses you incur as the result of a covered peril occurring at the location of a customer or supplier your business depends on.
Errors and Omissions (E&O)
Risk Factor
Nobody wants to make mistakes. But the fact is, they do happen. For example, the wrong products could be packed and shipped, delays could lead to a breach of contract, or there could be a labeling error. Sometimes a client will feel you've made an error and file a lawsuit that must be defended against.
Solution
Errors and omissions (E&O) coverage will provide coverage for legal defense and damages awarded in the event you are sued for a wrongful act. Even meritless claims must be defended and most defenses are costly.
Workers' Compensation
Risk Factor
If one of your employees receives an injury or becomes ill due to a work-related occurrence, you are required by law to have the proper coverage in place.
Solution
Workers' compensation insurance protects your employees in the event that a job-related injury or sickness occurs during the course of their employment. This coverage is required by law, so be sure that your business has it.
Employment Practice Liability Insurance (EPLI)
Risk Factor
On average, it's estimated that three out of five businesses will be sued by their employees. While there is nothing you can do to prevent someone from filing a lawsuit, you can limit the costs of defending a legal claim with proper insurance coverage.
Solution
Obtain employment practice liability insurance (EPLI) to protect your business from alleged employment-related acts such as wrongful termination, failure to promote, discrimination, and sexual harassment.
Commercial Umbrella
Risk Factor
What happens when your business faces a large liability loss that exceeds the basic limit of your standard policy?
Solution
A commercial umbrella insurance policy provides high limits of insurance, typically between $2 million and $10 million. Coverage is extended over your general liability, workers' compensation, and business auto insurance. It provides a great safety net and helps to secure protection for your business.
Cyber Liability
Risk Factor
The internet has spun a whole new web of liability exposures. E-commerce, social networking, cloud storage, and other technologies bring great benefits to large and small warehousing and logistics companies alike. But with these benefits also come challenges, including protection of privacy, data, and the financial information of your customers.
Solution
Cyber liability insurance protects your practice in the event of unauthorized access to electronic data or software within your network. It also provides coverage for spreading a virus, extortion, accidental release of personal identifiable information, and resultant damage caused by a lost or stolen laptop or other mobile device. This coverage is quickly becoming more and more important as you embrace technology to help run your business.
Commercial Property
Risk Factor
Any commercial property is at risk for damage due to fire or other events. Not only are your building and other structures on your property susceptible, everything inside from office furniture to inventory is at risk as well.
Solution
Commercial property insurance can help protect the property your business owns or leases, including things like equipment, inventory, furniture, and fixtures. Whether you own your building or lease the space, commercial property insurance can be purchased separately or can be combined with other necessary coverage to protect your business' physical assets.
Business Auto
Risk Factor
You have many exposures associated with your business vehicles, whether they're owned or leased. With a fleet of cars, trucks, vans, or other types of vehicles used in the course of business, a single accident can potentially put your business in financial jeopardy.
Solution
Business auto insurance provides coverage for vehicles owned or leased by a business and provides coverage for bodily injury, property damage, and other exposures, as well as comprehensive and collision coverage.
There is room for error everywhere.
As mentioned before, your warehousing and logistics business relies on well-planned operations. From tracking inventory to processing shipments, there is a lot of room for error in your business. For example, a delay in a shipment could result in a breach of contract. What happens then when you are held liable? Errors and omissions liability insurance (E&O) offers coverage to help with the costs of legal defenses and paying damages resulting from E&O claims, making E&O coverage an important part of your warehousing and logistics insurance policy.
Don't forget the standard business coverages.
There are some business insurance products you'll likely want to consider, regardless of your industry. Commercial umbrella insurance offers protection beyond the limits of some of your other policies. Commercial property insurance can help protect the property your business owns or leases, including buildings, inventory, equipment, and more. A cyber liability insurance policy offers protection against the financial losses associated with data breaches.
If you are in need of warehousing and logistics insurance coverage, contact us to discuss your options.
Step 1

Fill out the form.

Step 2

Review your options with us.

Step 3

Get the coverage you need.
Warehousing and Logistics Insurance Quote Request
"*" indicates required fields